Indigo Seaways Pvt Ltd has been honored for their exceptional achievements in maritime innovation during the Global Maritime India Summit 2023, held in the vibrant city of Mumbai. The summit, graced by the presence of the Union Shipping Minister and the Chief Minister of Gujarat, celebrated the successful operation of the Ghogha-Hazira Ro-Pax ferry service, which has garnered international acclaim.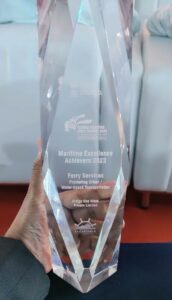 CMD of Indigo Seaways Pvt Ltd., Mr.Chetan Contractor said that, this groundbreaking water transportation facility, linking Bhavnagar's Ghogha to Surat's Hazira, has bridged the gap between Saurashtra and South Gujarat, revolutionizing travel and logistics in the region. The service, which operates two vessels, has demonstrated remarkable success by ferrying 6.15 lakh passengers, 90 thousand cars, 45 thousand bikes, and 67 thousand trucks, saving an astounding 44 lakh man-hours and 13,223 kiloliters of fuel. These achievements have been a significant contribution to environmental preservation, reducing the carbon footprint and congestion on the roads.
The CEO of Indigo Sea Ways Pvt. Ltd., Capt. Manral narrated that,  Indigo Sea Ways Pvt. Ltd.,  is a subsidiary of the Detox Group operating under the DG Sea Connect brand, has emerged as the pioneer in India's Roll On-Roll Off (RoRo) ferry services. Their Passenger cum RoRo service, spanning a region with a tidal range of 11 meters and challenging waters in the Gulf of Cambay, is a testament to their unwavering commitment to excellence.
Revolutionizing Maritime Excellence: Collaborative Venture Forges Ahead with Innovative MSME Shipyard
The Hazira-Ghogha Ro-Pax ferry service, a dream project of India's Honorable Prime Minister Shri Narendra Modi, is a shining example of long-term vision and dedication. The project initially faced technical challenges on the Saurashtra (Ghogha) – Dahej route but was successfully revitalized under the Ministry of Ports, Shipping and Waterways (MoPSW). This feat was accomplished in just three months, with a record launch in November 2020, now connecting Saurashtra (Ghogha) to Hazira (South Gujarat). The rapid development of a state-of-the-art deep draft terminal in Magadalla channel Hazira, constructed by the Directorate of Ports and Administration (DPA) in September 2022, further elevated the Ro-Pax facilities.
ISPL is now operating two cutting-edge Ro-Pax ferries in one of the most challenging maritime regions, covering 60 nautical miles amidst high tidal ranges and turbulent waters. Their success is attributed to the dedicated efforts of Gujarat Maritime Board Chief Nautical Officer, Capt. Ashwin Solanki, who played a pivotal role in clearing regulatory constraints and setting new standards for Ghogha-Hazira Ro-Pax operations.
This visionary project not only aligns with the goals of Prime Minister Shri Narendra Modi but also reduces the travel distance between Hazira (Surat) and Ghogha (Bhavnagar) from 375 kilometers and 10-12 hours by road to 90 kilometers and just 4 hours by sea. This achievement significantly reduces the carbon footprint, road congestion, and air pollution, thereby contributing to environmental preservation.
Are Bangladesh and Pakistan Prepared for the Hong Kong Convention on Ship Recycling?
In addition to enhancing connectivity, Ro-Pax ferries provide an affordable mode of transportation for over ten lakh workers from the Saurashtra region who travel from Surat and South Gujarat to Saurashtra to visit their families. This service also plays a crucial role in reducing logistic costs for goods shipped via trucks.
The Hazira-Ghogha Ro-Pax ferry service is not only economically competitive but also environmentally friendly, saving 44 lakh man-hours, 13,223 kiloliters of fuel, and reducing 23,537 tons of CO2 emissions. Moreover, it plays a pivotal role in addressing the alarming statistics of road accidents in India, contributing to road safety and economic savings.
Honorable Prime Minister Shri Narendra Modi's vision to develop the RoPax/Ro-Ro "Mass Water Rapid Transport" ecosystem is set to be a game-changer for India, providing swift, convenient, environmentally friendly, and cost-effective logistics solutions to meet the growing demands of the emerging global economy. Indigo Seaways Pvt Ltd's relentless commitment to this vision has rightfully earned them recognition and accolades at the Global Maritime India Summit 2023.