Among the imports and exports at Bhavnagar port, which is considered perennial in Gujarat, coal imports are the highest. Coal is a highly flammable substance, yet gross negligence is being shown at Bhavnagar port regarding fire fighting equipment. There is a situation where a well has to be dug when there is a fire at Bhavnagar port.
A fire fighting system was installed at Bhavnagar port 60 months ago at a cost of Rs.1,49,94,968/- by Super India Buildpro Company of Surat. But the fire was extinguished before it started in the system, the pump station itself was not built, and the laid pipeline has become damaged. Pipes were broken and lost in many places before the system was fully operational. Despite the lapse of 60 months, the responsible officials of the GMB have been negligent in commissioning the fire fighting system.
So far this year, 49 ships loaded with coal and lime stone have called at Bhavnagar port, with a cargo of 24,93,978 MT. Among them, the largest cargo is coal. An average of 30 lakh MT of coal arrives at Bhavnagar port every year but there is no fire fighting system.
Cargo is being handled continuously and consistently at Bhavnagar port. Bhavnagar port is the leading port in the state in importing coal, the port distance from Bhavnagar city is 10 km. There is, and if the coal cargo catches fire, there is no fire fighting system in the port and if it is shipped from the city to New Port, the coal fire can spread further because of the great distance. But even though the higher officials of GMB are aware of all these things, they are turning a blind eye.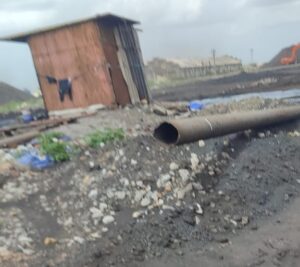 Project suspended, sent to head office for approval

A fire fighting system pump station is yet to be constructed at Bhavnagar port, the system has been shut down, estimates are being prepared for damage, and then sent to the head office for approval. Currently, the fire fighting project is in a suspended state.

-> KP Vasava, Executive Engineer, Mechanical, Gujarat Maritime Board, Bhavnagar.