During a storm in Mallorca, Spain, a cruise ship named Britannia, owned by P&O Cruises and based in Southampton, broke free from its moorings and crashed into a cargo vessel. Passengers on board shared their experiences of the incident. The ship had been securely docked but was swept away by the storm, described as feeling like a paper boat on water. The force of the storm was so strong that it even washed away a walkway.
Fortunately, there were only a few minor injuries among the passengers, who are currently receiving treatment on the ship itself. P&O Cruises reported that the ship will stay in Palma for a thorough technical assessment. The ship's pilot had reassured passengers that there was no structural damage prior to the incident.
Persisting challenges in Indian ship recycling: insights from Best Oasis
Passengers captured photos and videos of the chaos, including emergency responses and debris scattered in the sea. One passenger, Gavin McCoy, recounted the unexpected turn of events. He mentioned that the ship was engaged in an emergency drill conducted by the local fire service and crew when a sudden rain and windstorm caused the ship to break free from its moorings. This led to tethering lines snapping, water hoses being torn, and the walkway collapsing into the sea. McCoy was sitting in a coffee shop and saw the dockside reception tents being blown away by the wind.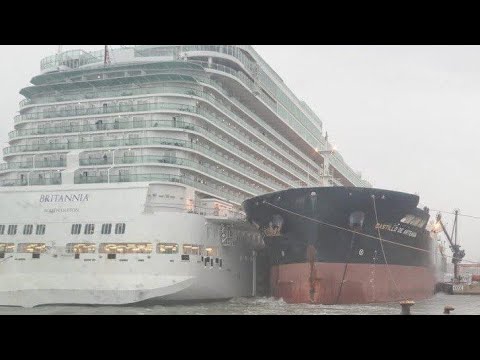 The ship ended up drifting far from its original position and collided with a nearby cargo vessel. Another passenger, Dale Hopkin, described the scene on the ship as chaotic, with sunbeds being overturned by the strong winds. The heavy rain made it difficult to see through the ship's windows, and Hopkin compared the ship's movement to that of a paper boat.
Ship owner should prefer proper recycling facilities
Passenger Tracey Hopkin, Dale's wife, mentioned that the ship came dangerously close to the breakwater rocks in the harbor during the incident. She was amazed by the crew's efforts and appreciated the regular updates provided by the captain. Another passenger named Tilley Eve described the situation as very challenging for nearly two hours, likening it to being in a scene from "The Wizard of Oz." Some families even put life jackets on their children as a safety precaution. The storm is believed to be one of the severe thunderstorms common in the Balearic Islands.