In a recent incident related to the betel nut scam in Kutch-Mundra, India, startling revelations have emerged about a black pepper scam. An internal letter from the Delhi-based Directorate of Revenue Intelligence (DRI) has surfaced on social media, exposing Pankaj Thakkar of Krishna Shipping in Gandhidham, who was already implicated in the betel nut scandal. Thakkar is accused of evading duties worth 65 crore rupees by importing black pepper and cheating the Indian government out of crores of rupees. Partners Naimish Sodha and Mehul Pujara of Aditya EXPORTS in Gandhidham have confessed to their involvement in this scam. They revealed that Thakkar orchestrated the entire warehouse operation, with them acting as frontmen. This is not the first time Thakkar and Pujara have faced legal trouble; they were previously arrested in another scam.
The internal DRI letter contains explosive details about the black pepper import scam. It reveals that Aditya EXPORTS imported 1792 tonnes of black pepper from Afghanistan between October 2022 and March 2023, claiming it was sold in India. However, DRI discovered that the documents indicating the loading of black pepper in Bandar Abbas by Aditya EXPORTS were fake. Subsequent investigations by DRI uncovered that 12 out of 17 voyages claimed to have taken place from Bandar Abbas were entirely fabricated; the ships never went there. Instead, the black pepper was actually exported from Dubai's Jebel Ali port. Furthermore, shipping agents Iyer Shipping Agency and Vision Containers of Aditya EXPORTS confessed that all bills of lading from Bandar Abbas were bogus, and firms like Cuthbert Winner and Cuthbert Oceans, supposedly involved in the trade, did not exist at their stated addresses in Delhi.
Naimish Sodha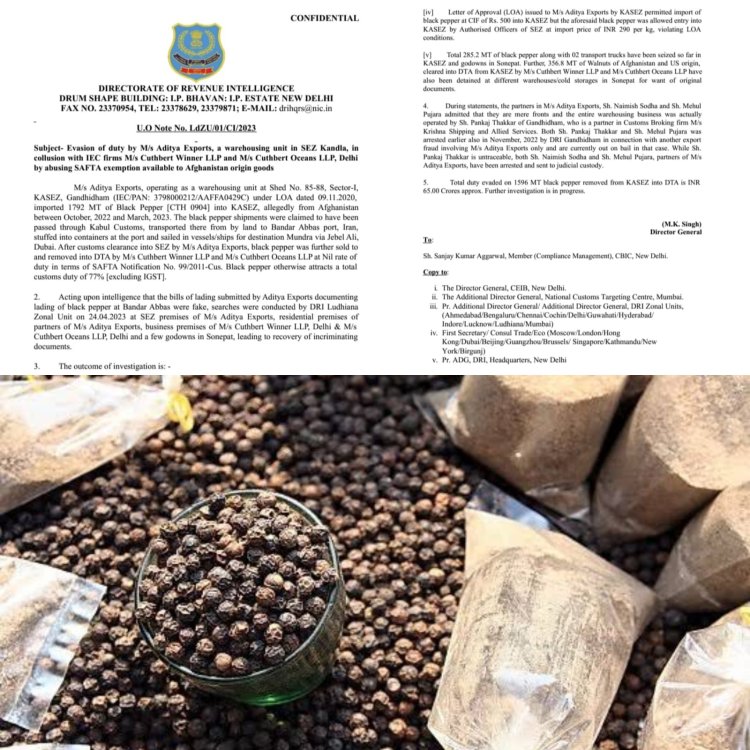 and Mehul Pujara, partners in Aditya EXPORTS, have been arrested and imprisoned for their roles in this multi-crore tax evasion scam. They admitted to being frontmen while Pankaj Thakkar of Krishna Shipping, the mastermind behind the operation, orchestrated the entire warehouse business. Thakkar, who was on the run initially, was later granted bail by a court in Kutch.